Do you also want to know about Meta Paid Verification Now In India: How To Buy Verification Badge On Instagram, then after reading this blog post, you will not need to go anywhere else. So you need to read it carefully; only then will you be able to understand instagram blue tick buy verification easily. However, Instagram is the more popular social media network, which the common person easily uses to celebrities. That's why a lot of importance is given to the verified account on this platform, after which you are given numerous facilities. That's why we should also take advantage of buy blue tick instagram and make our account more popular.
Meta Paid Verification Now In India
Meta made Paid Verification available in India on Wednesday (June 7) using the Twitter method. However, the social networking specialist announced that there is now a bundled Meta Verified subscription that includes a government ID, impersonation protection, and account support to verify your Instagram account. Meta Verified is a paid verification system in which Mark Zuckerberg announced that he would retain the Verified badge of accounts verified before the introduction of Meta Verified.
Meta Verified Price And Availability In India
Meta Verified is now available for direct buy blue tick on Instagram or Facebook in India. Users can easily buy a monthly subscription for Rs 699 on iOS and Android. However, it is not that once you take the Meta Paid Verification badge on your account. It is not that the blue tick will remain on your account forever. We will have to pay Rs 699 per month to Meta to maintain this; however, in the coming months. Meta will also offer a web purchase option at a cheaper price of Rs 599 per month.
Accounts on Instagram and Facebook that were verified before the introduction of Verified were passed through a set of criteria by the company to confirm their authentic presence. Only after which he was given the Blue Badge on his account. Meta states that we want to create a valuable subscription offering to all, including creators, businesses and our community. However, with this vision, we are developing the meaning of verified accounts on our apps so that they can take advantage of more convenience after verifying their account.
Meta has written in one of its blogs that Earlier in March, the Meta Verified waitlist was opened in India.
How To Buy Verification Badge On Instagram?
A verified badge on any social media confirms that you are a real person and that your account has been authenticated with a government ID.
When an account gets verified on Instagram, it is given more protection. Due to this, he can easily contact the chat support of direct Instagram, and Instagram gives more convenience to verified accounts than normal accounts.
However, if you want to buy verification badges on Instagram, you must have your account. You can buy instagram blue ticks; for this, we will tell you some steps, after which you can easily buy blue check on instagram.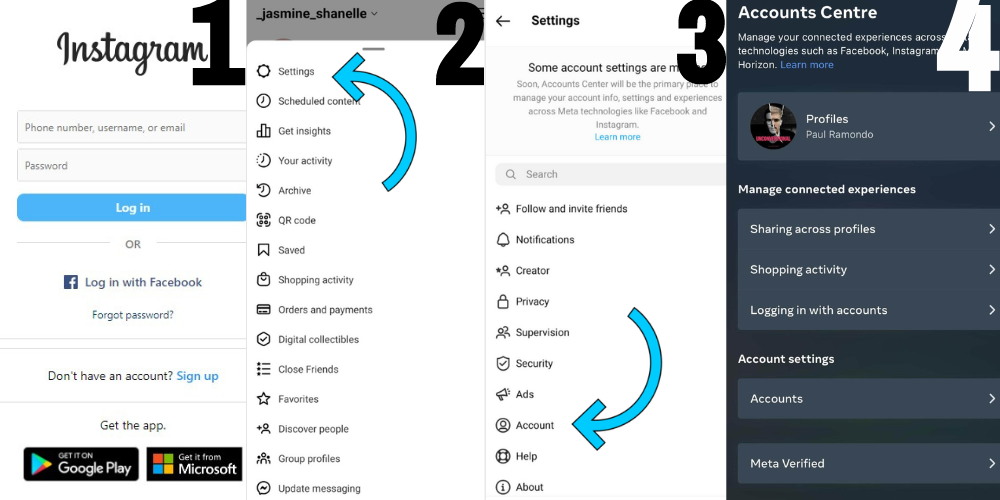 First of all, you have to log in to your Instagram account.

After that, you have to go to your profile setting.

After going to the profile setting, you have to click on the option of Accounts Center at the top.

You will see the option of Meta verified; you just have to click on it easily. After which, it takes you to buy instagram verification badge direct payment, which you must pay online.
If the option of Meta Verified is not coming into your account, then you have to update your Instagram application to the latest version. If the option is still not coming, you can use our second method.
The Second Method Of Instagram Verified Badge Purchase Is Mentioned Below: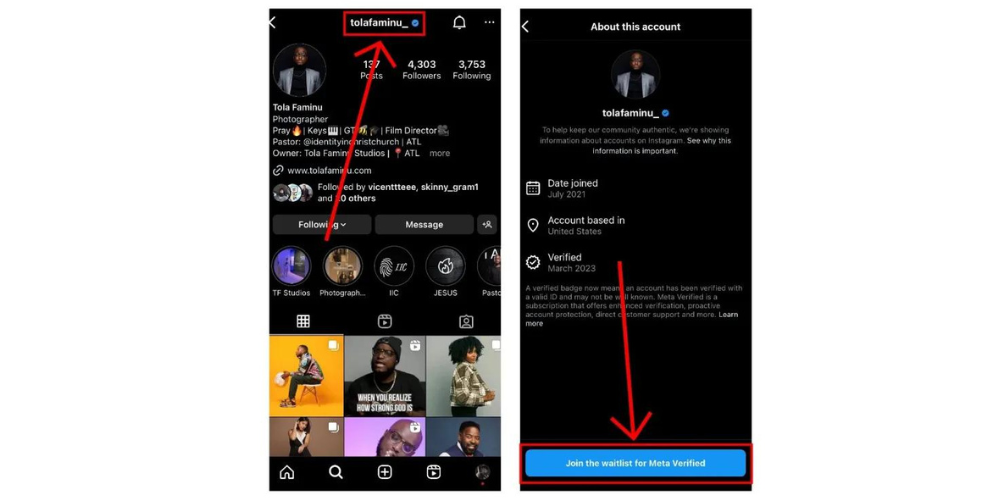 When you are completely logged into your Instagram account.

So you have to go to the search tab and search for any verified Instagram account.

When you search and open a verified account, you will see three dots on the top side of its profile, on which you have to click.

After which, you see some options, in which you have to click on About this account.

Then a new page opens in front of you, in which you will see the niche. Join the waitlist for Meta Verified, which you have to simply click, after which a notification goes from your side. Then the company gives the option of Meta Verified in your account as soon as possible.
Buy Blue Tick For Instagram Choose Netsviral For It!
You do not need to worry if you cannot verify your Instagram account even after using all the methods. For this, you can easily choose Netsviral.
Netsviral is providing you with the service of a Meta Paid Verification badge, you have to contact our site. And have to tell you about your Instagram account. After which our team will start working on Paid Verification on your account.
WhatsApp Number: +91 85272 77528
Keywords:-
how to get verified on instagram, how do you get verified on instagram, how to verify instagram account, how to get a blue check on instagram, how to get blue tick on instagram hack, buy blue tick on instagram, meta paid verification, buy instagram verification, buy blue tick instagram, buy instagram verified badge, buy instagram verification badge cheap, buy instagram verified account, buy blue check on instagram, buy instagram verification free, instagram blue tick purchase, buy blue tick comments on instagram, buy instagram account with blue tick, instagram blue tick buy online, purchase blue tick instagram, buy instagram verification cheap
Tags:
How To Buy Verification Badge On Instagram
how to get a blue check on instagram
how to get verified on instagram